News
12/30/2006
Check out pictures from the test on 12/19. Garrett earned his Brown Belt and Byron earned his Gold Belt!

We had a great year-end pizza party on the 21st. Pictures here.
12/4/2006
The next belt test is scheduled for December 19th. We will be breaking boards after the test!

Don't miss our end-of-the-year pizza party on December 21st! It starts at 6:30 pm - wear street clothes instead of your uniform. Bring your family and friends. A dessert dish would be a welcome addition. We'll be watching this martial arts video.
11/29/2006
This is the last week of the fall session! The next session starts December 5th.
11/9/2006
Our kids class had their very first test! Congratulations to our newest Gold Stripe students. (picture)
11/4/2006
Congratulations to our tournament competitors! Garrett and Byron did a wonderful job, winning first place in each of their sparring divisions, and earning medals in forms as well. (slideshow)
10/28/2006
Happy 80th Birthday to Mr. Erickson! (slideshow)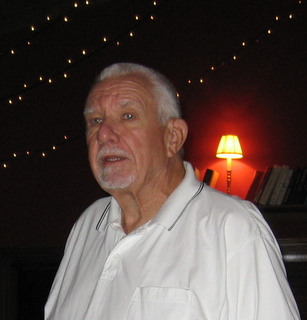 10/17/2006
An extra class on Sunday is now available to Dragon School students. The class runs from 5-7 pm and costs $5 per class. Class is held in the downstairs dojo in the Cooper Fitness Center (12100 Preston Road; Dallas, Texas 75230).

Sundays will be less structured than weekdays classes - instructors will be available to work with you. This is a great opportunity for supervised practice. Sparring during this class requires hand and foot pads. Ask an instructor for more information.
10/5/2006
Check out the terrific group of kids in our first kids class session (click for larger image):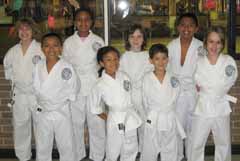 9/5/2006
The new session starts today! This session runs through November 30th. There will be no class on November 23rd.
8/28/2006
No class this week! The next session starts on September 5th.
8/11/2006
We are adding a children's class (ages 6-10) starting September 5th. Classes will be held Tuesday and Thursday from 6-7pm. See the about us page for more details.
Online registration is now available through the Rec Center. The Fall session starts on September 5th. There is a one week break between the Summer and Fall sessions.
7/28/2006
The Dragon School schedule is now available as a Google calendar. This is a great way to keep track of our events if you have a Google account. (Viewable even without an account.) Check it out here.
7/27/2006
Many thanks to Mr. Bryan Robbins, our guest instructor today. Mr. Robbins teaches Aiki Ju Jitsu at SMU on Saturdays.
7/15/2006
Congratulations to our newest Red and Purple belts!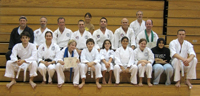 We had a wonderful in-class test on Thursday - click here for a picture from the sparring.
7/12/2006
A list of test fees is now available on the Resource page. The next test is tomorrow, July 13th!
7/10/2006
Check out the new Dragon School online store for all kinds of fun gifts and t-shirts for students and instructors!
6/27/2006
Session 4 of 2006 begins today - don't forget to sign up! This session runs until August 24th.
5/2/2006
Session 3 of 2006 begins today. Thursday class time has moved from 6 pm to 7 pm.
3/25/2006
The 30th anniversary A-KATO seminars and banquet was fun for everyone. Congratulations to the student of the year, Ms. Lisa Montgomery! Ms. Montgomery also gave a very successful kids self-defense seminar.
2/11/2006
Congratulations to Ms. Halleh Bahramnejad and Ms. Jennifer Vilches for successfully testing for first degree black belt in Kobudo.
1/1/2006
2006 Class schedule:
Session 1: January 3 to February 23
Session 2: March 7 to April 27
Session 3: May 2 to June 23
Session 4: June 27 to August 24
(No class July 4)
Session 5: September 5 to October 26
Session 6: October 31 to December 21
(No class Nov 23rd)